Cleaner & Safer - Daily Cleaning Routine
Makeup Residue│Sebum Secretion│Facial Debris
Are you facing these skin care issues everyday:
| | | |
| --- | --- | --- |
| |   | Only use hands and water to remove makeup - Some base debris cannot be fully removed. |
| |   | Daily makeup gradually affects our skin condition - Fine lines and wrinkles start to appear. |
| |   | Sweat and sebum secretion will cause clogged pores and hence acne. |
| |   | Unthorough face cleansing will accelerate the growth of acne and grease grain. |
If you're also facing these problems, Lifetrons Ultra Cleanser is definitely what you need! One skin care device can satisfy all your needs: Deep Cleansing and Essence Absorption. It fully cleans our all the dirt and debris from your pores. From then on, you can restore smooth and flawless skin!
Product Features
Silicone brush is more effective in cleansing. It gently removes all the makeup residue, dirt and oil from pores. On the other hand, microcurrent can boost blood circulation and improve skin condition.
✔ US FDA Certification
✔ Deep Cleansing & Restore Flawless Skin
✔ Microvibration 5 Intensity - Remove Dead Skin
✔ Tighten Facial Muslces & Raise Skin Elasticity
✔ Food-graded Silicone Brush - Safe & Anti-bacteria
✔ Swiss Design + IPX5 Waterproof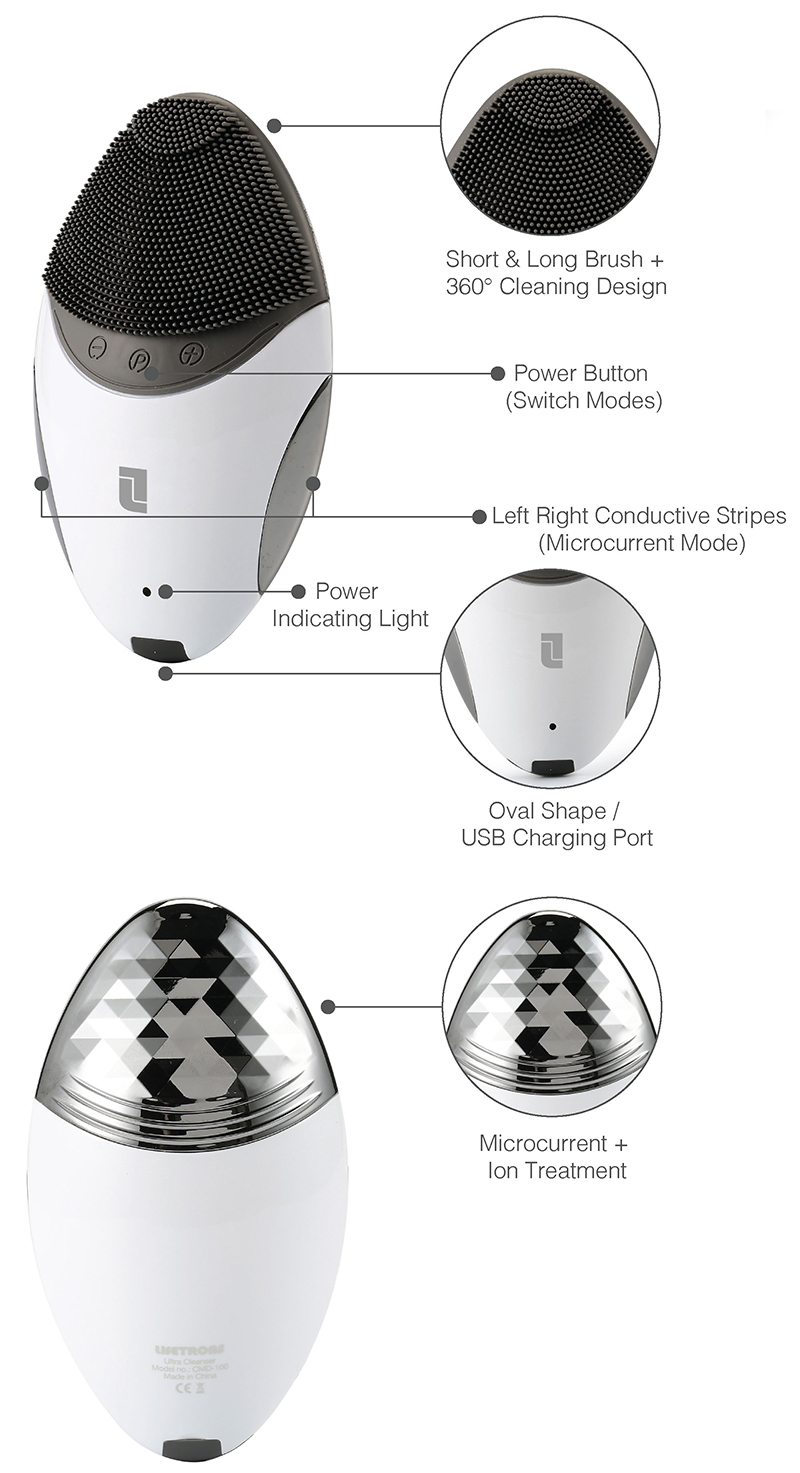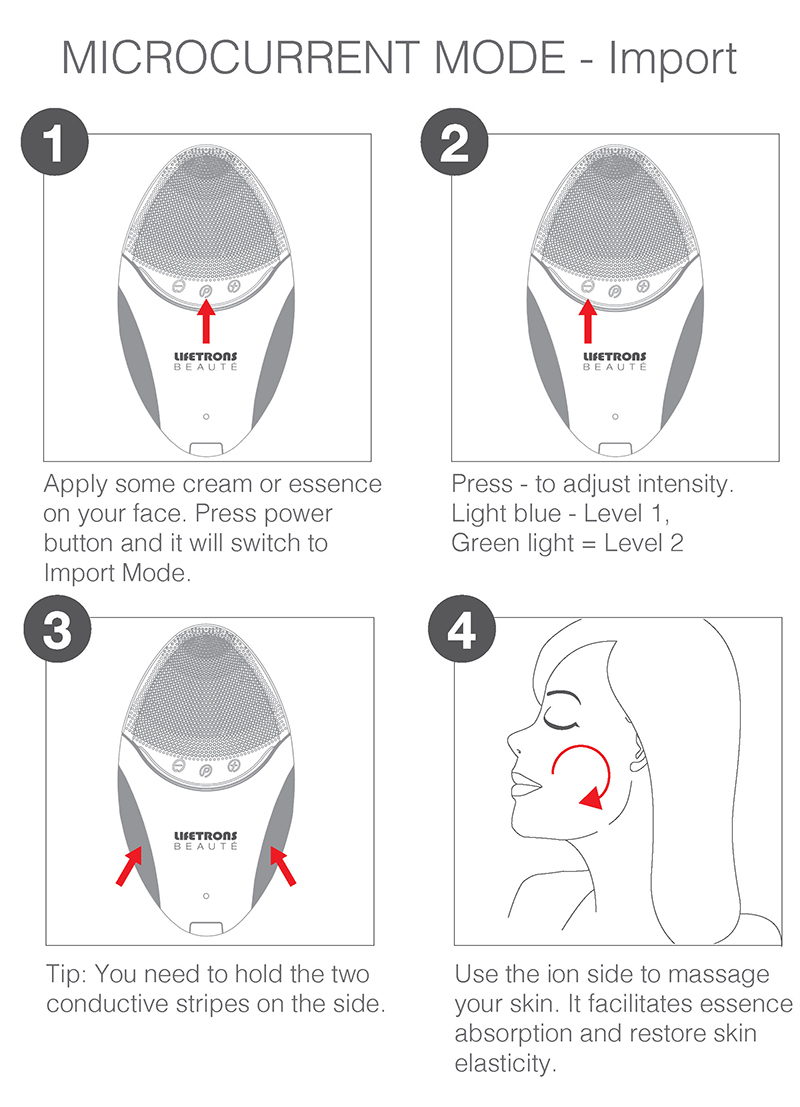 Beauty Technologies
Lifetrons Ion & EMS Ultra Cleanser is the ultimate facial cleanser for daily cleaning routines. It cleans out dirt, oil and makeup debris from pores and with advanced microcurrent technology, it also lifts facial muscles.
Remove Dirt Ion Cleansing
Switch the treatment mode to Positive Ion mode. This can break down the debris into fragments and clean them out from your pores. It is much effective than cleaning your face with hands.
Nutrient Absorption Ion Importing
Switch the treatment mode to Negative Ion mode. This facilitates essence and nutrient absorption which enhance the skin care effects. Microcurrent can restore face elasticity at the same time.
Tighten Skin Muscles Microcurrent Facial Lifting
Low frequency microcurrent will stimulate facial muscles, hence tighten muscles and pores. It helps restore youthful skin and increase skin elasticity.
Safe & Hygienic Silicone Brush
The cleansing brush is made of food graded silicone which gently wash your face and prevent bacteria formation. It is much safer and cost-efficient.
Professionals Recommendation
Lifetrons' beauty devices are easy to use and non-invasive alternatives for enhanced skincare.

The adopted technologies have got international certifications which ensure safety and quality of all beauty products.

- Dr.med. Nikolaus Linde, International Beauty Expert
Blogger Recommendation
Obviously my skin becomes a lot more clean, softer and smooth after using this ultra cleanser to clean my face and remove makeup.

- Stylein Cali
International Certification
Specifications
| | |
| --- | --- |
| Model |  CMD-100-WH |
| Package Size |  118*67*43 (mm) |
| Weight |  160g |
| Designed in |  Switzerland |
| Made in |  China |
| Power |  USB |
| Battery capacity |  400mAh |
| Warranty |  1 Year |
Reminder
Lifetrons Switzerland beauty products are designed in Switzerland with advanced European beauty technologies. It is advisible that you could consult doctor before using Lifetrons Anti-Aging Eye Rejuvenator:
Sensitive skin.
Do not use if pregnant.
have a surgical implant, allergies, retinoic acid treatments, heart disease history or other medical condition.
The product effects may vary due to different skin type. We suggest using this device with Lifetrons RF gel with better skin care effects.
Support
Lifetrons Switzerland products enjoy one international year warranty, starting from the day of purchase. If you have any questions regarding warranty terms, please don't hesitate to contact us. Our CS team will be here to help.
| | |
| --- | --- |
| Switzerland  |  +41 71 379 00 88 |
|   |  contact@lifetrons.ch |
| Singapore  |  +65 6635 6932 |
|   |  cssg@lifetrons.com |
| Hong Kong  |  +852 2949 9103 |
|   |  +852 5189 2357 |
|   |  cs@lifetrons.com |