Description
Lifetrons Ultrasonic Cleanser With Ion & EMS Lifting


Deep Cleaning & Skin Purification
Makeup Debris│Sebum Secretion│Dirt│Black Head│Dead Skin│Acne│Cuticle
Makeup and covering base cannot solve those annoying skin problems. Washing your face with bare hands cannot effectively remove dirt and oil, which lead to:
| | | |
| --- | --- | --- |
| |   | Pale And Aging Skin |
| |   | Black Head & Acne |
| |   | Frequent Acne Growth |
| |   | Large Pores & Stored Dirt |
Lifetrons Ultrasonic Cleanser With Ion & EMS Lifting adapted beauty medical technologies which are approved by US FDA. It ensures safety and efficient deep cleansing.
Product Features
Lifetrons Ultrasonic Cleanser is designed especially for face cleaning. One device can satisfy all your needs: Remove black head, acne, dead skin etc. This cleanser is what you should have for daily cleaning routine and tighten facial muscles. Swiss medical graded EMS technology helps you restore youthful skin.
✔ Remove Black Heads, Acne, Dead Skin etc
✔ Swiss EMS Technology - Facial Lifting
✔ Facilitate Essence Absorption
✔ Treatment Head Made Of 316 Medical Stainless Steel
Deep Cleansing│Moisturising│Facial Lifting
Application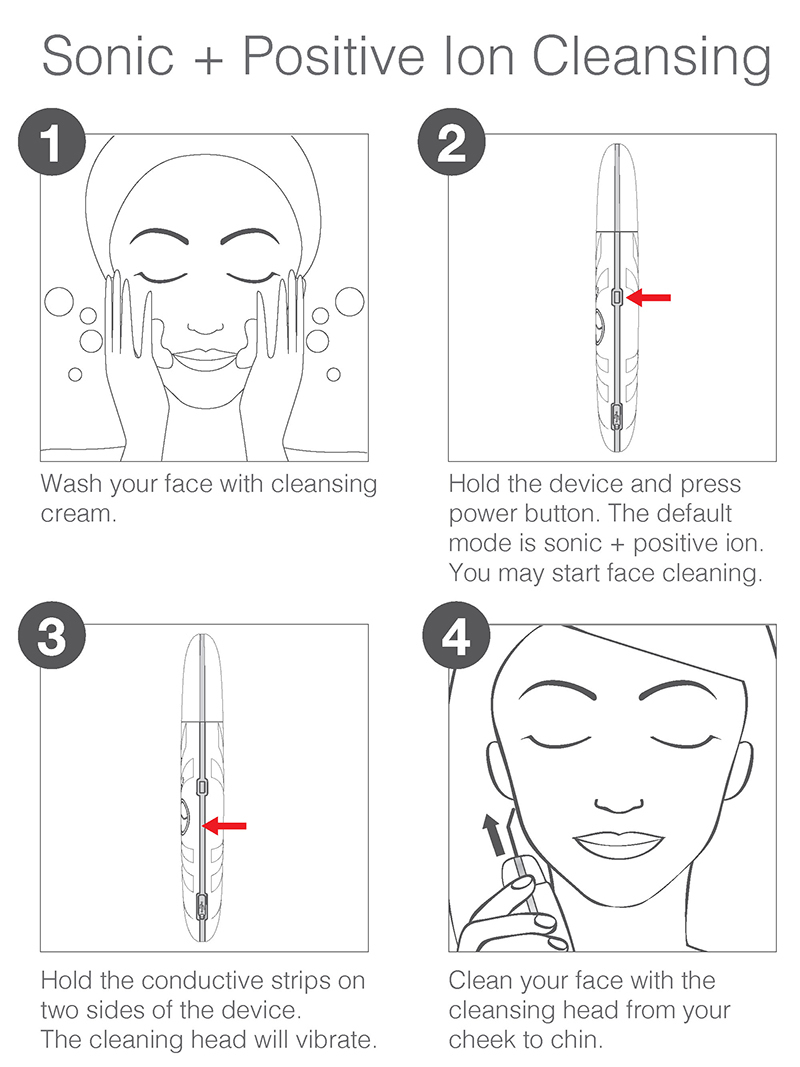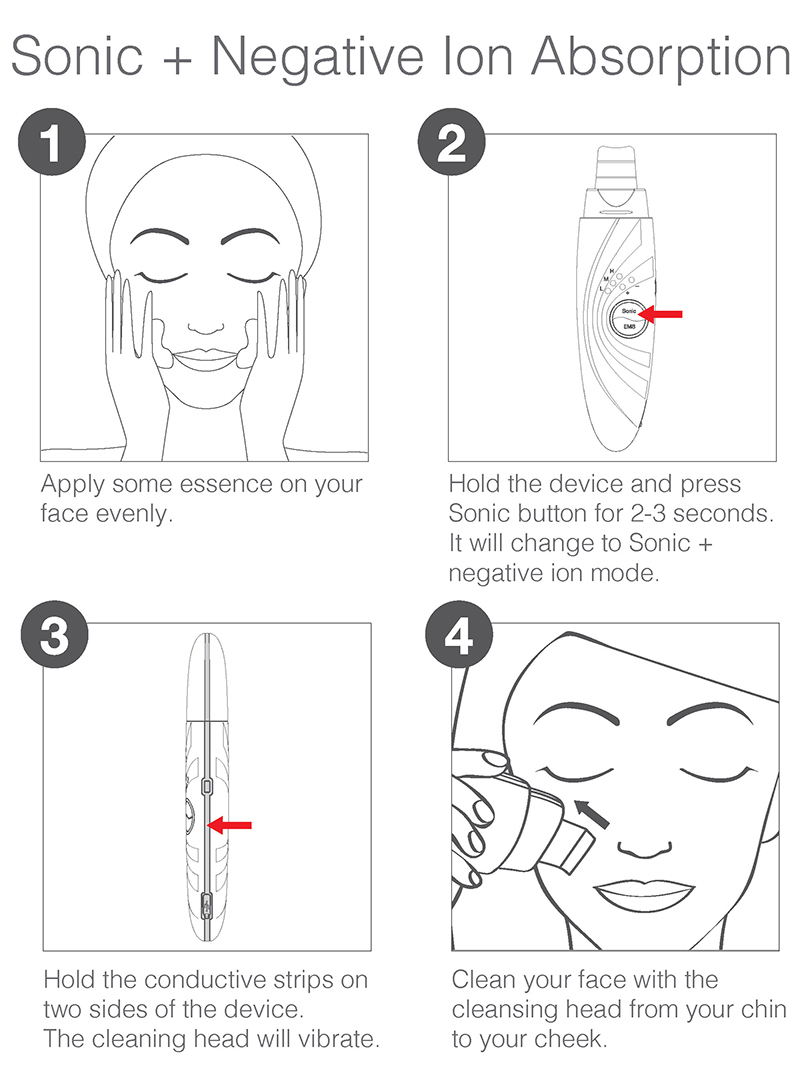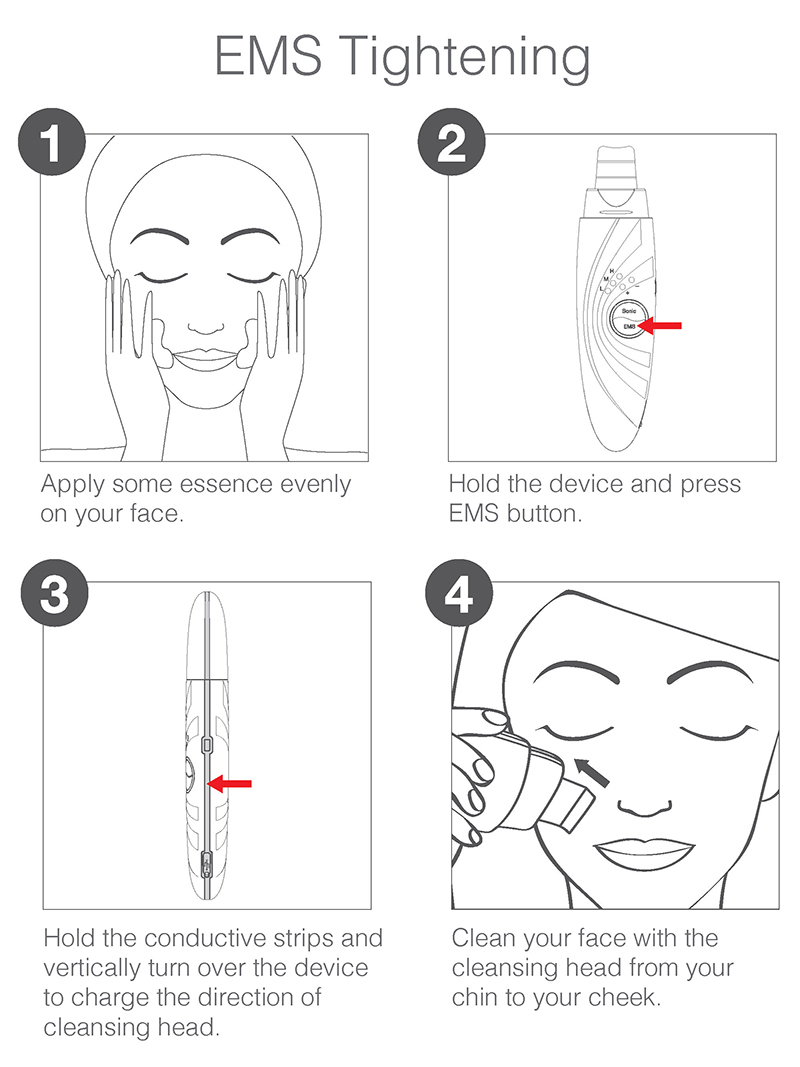 Beauty Technologies
Lifetrons Ultrasonic Cleanser is the most powerful and advanced deep cleaning beauty device. Combined with Swiss beauty technology, this ultrasonic cleanser is equipped with positive ion, negative ion and microcurrent. You deserve high quality beauty gadget like this one!
Remove Debris Positive Ion + Ultrasonic
Ultrasonic breaks down the dirt and debris. Positive ion helps export the dirt out from our pores. It effectively deep cleans our face and much better than hand washing.
Facilitate Nutrient Absorption Microvibration Ion Technology
Ultrasonic vibration breaks down the skin care essence into small particles and negative ions deliver the essence particles into our skin. This largely enhances skin care effects and helps restore skin elasticity. Better use after face cleaning.
Restore Skin Elasticity EMS Lifting Technology
Effectively tighten facial muscles and pores, hence resulting in face contour lifting. Microcurrent technology can boost collagen growth and regain smooth youthful skin.
Professional Recommendation
Lifetrons' beauty devices are easy to use and non-invasive alternatives for enhanced skincare.

The adopted technologies have got international certifications which ensure safety and quality of all beauty products.

- Dr.med. Nikolaus Linde, International Beauty Expert
Blogger Recommendation
After using for 5 minutes, I can clearly see some white residue on the steel cleansing head. The dirt, black heads and oil are pushed out from our pores!

- Jade Chin
Specifications
| | |
| --- | --- |
| Model |  UI-400-WH |
| Package Size |  180.4*44*25 (mm) |
| Weight |  103g |
| Designed in |  Switzerland |
| Produced in |  China |
| Power Supply |  USB |
| Battery Capacity |  900mAh |
| Warranty |  1 Year |
Reminder
Lifetrons Switzerland beauty products are designed in Switzerland with advanced European beauty technologies.
Sensitive skin.
Do not use if pregnant.
have a surgical implant, allergies, retinoic acid treatments, heart disease history or other medical condition.
The product effects may vary due to different skin type.

Support
Lifetrons Switzerland products enjoy one international year warranty, starting from the day of purchase. If you have any questions regarding warranty terms, please don't hesitate to contact us. Our CS team will be here to help.
| | |
| --- | --- |
| Switzerland  |  +41 71 379 00 88 |
|   |  contact@lifetrons.ch |
| Singapore  |  +65 6635 6932 |
|   |  cssg@lifetrons.com |
| Hong Kong  |  +852 2949 9103 |
|   |  +852 5189 2357 |
|   |  cs@lifetrons.com |